CaliNRG Capsules - Focus & Energy Support Herbal Supplement
Delivery In 5-7 Days, and free delivery on orders $35 or more
100% Satisfaction or Money Back Guarantee
Guaranteed Lower Price
We charge the lowest prices of any herbal supplement company around
Cali NRG Calm Energy Capsules are a herbal supplement designed to provide a natural energy boost. These energy capsules contain a blend of California Poppy, guarana, yerba mate, bitter orange, and black pepper for maximum effectiveness. The capsules are designed to give you an energy boost without the jitters or crashes associated with traditional energy drinks. They also help support focus and concentration throughout the day. Try Cali NRG Calm Energy Capsules for a natural energy boost that will help you stay alert and focused.   

CaliNRG is an herbal supplement that provides a raw natural energy boost without jitters or crashing. Our formula includes California Poppy, guarana, yerba mate, bitter orange, and black pepper, five powerful herbs known for their energizing effects.

Looking for an alternative to energy drinks? CaliNRG is a clean and natural way to boost your energy levels without artificial additives or sugar. Our formula includes ingredients like guarana and yerba mate, which are known for their energizing properties, and California Poppy, which has a calming effect to balance out the energy boost.

CaliNRG is more than just an energy booster - it's also a great way to support focus and concentration. The combination of guarana, yerba mate, and black pepper in our formula can help improve mental alertness and cognitive function.

CaliNRG is made with high-quality, carefully sourced ingredients and is vegan, gluten-free, and non-GMO. Plus, it's non-habit forming, so you can use it as needed without worrying about developing a dependence.

CaliNRG is easy to incorporate into your daily routine. Simply take two capsules daily with a meal, or as directed by a healthcare professional. You can also combine it with other energizing techniques, such as exercise or meditation, for an extra boost.

100 Vegan Capsules: Each bottle of CaliNRG Capsules contains 100 vegan-friendly capsules, each with 600mg of CaliNRG, providing you with an ample supply for an extended period. This allows you to incorporate them into your daily routine effortlessly and enjoy the benefits of CaliNRG whenever you need it.
See Images For Supplement Facts Panel & Ingredients
Bioavailable Whole Plant Parts
View full details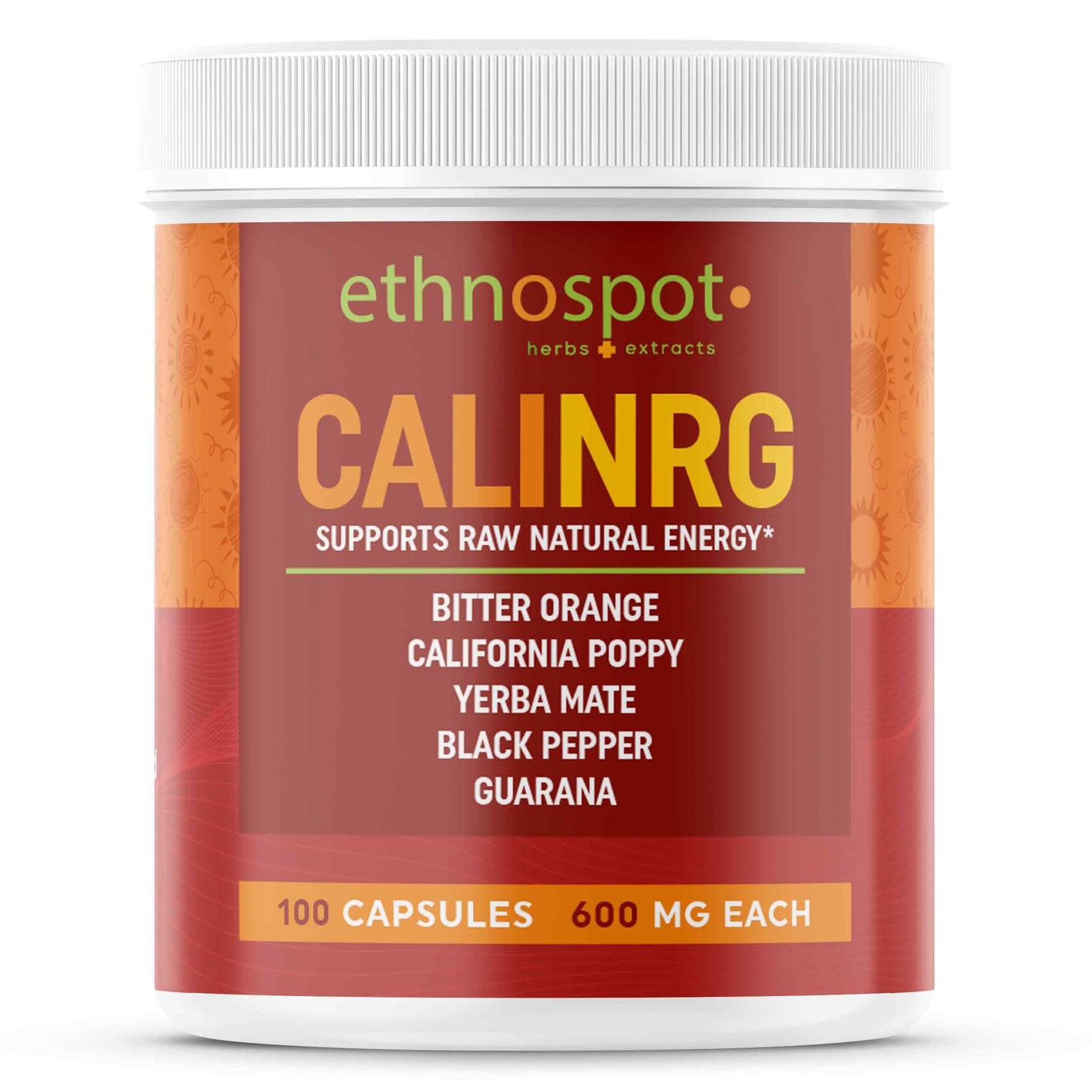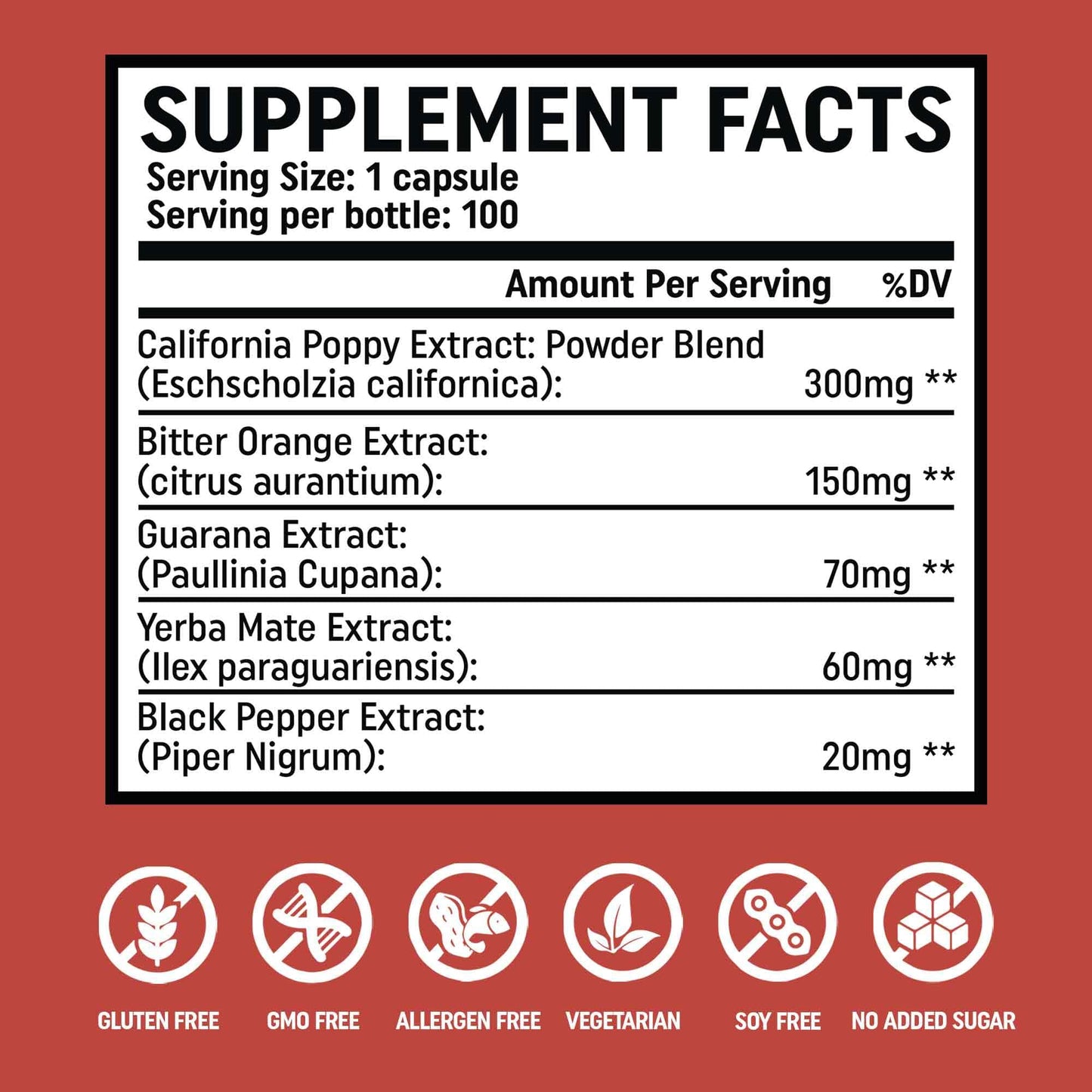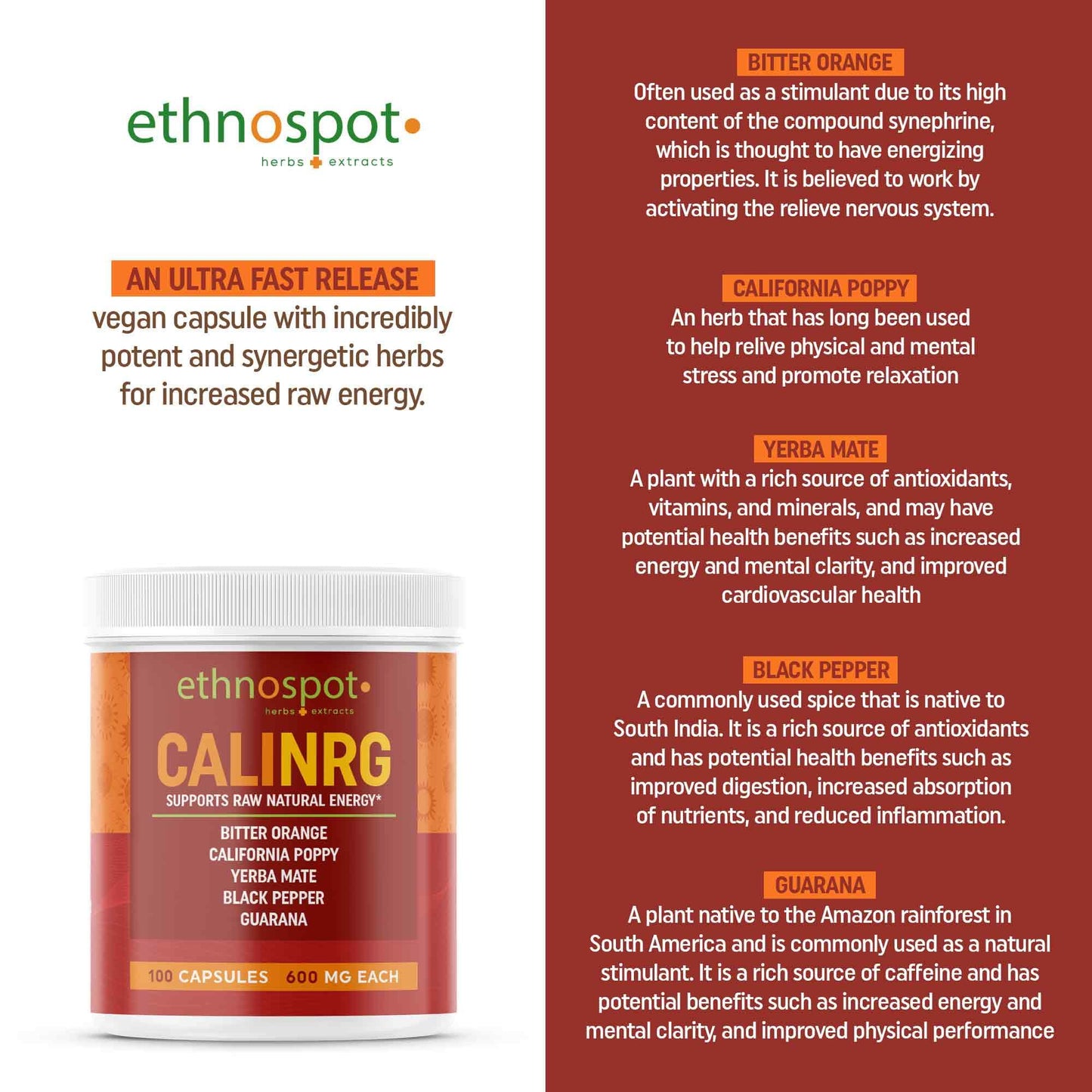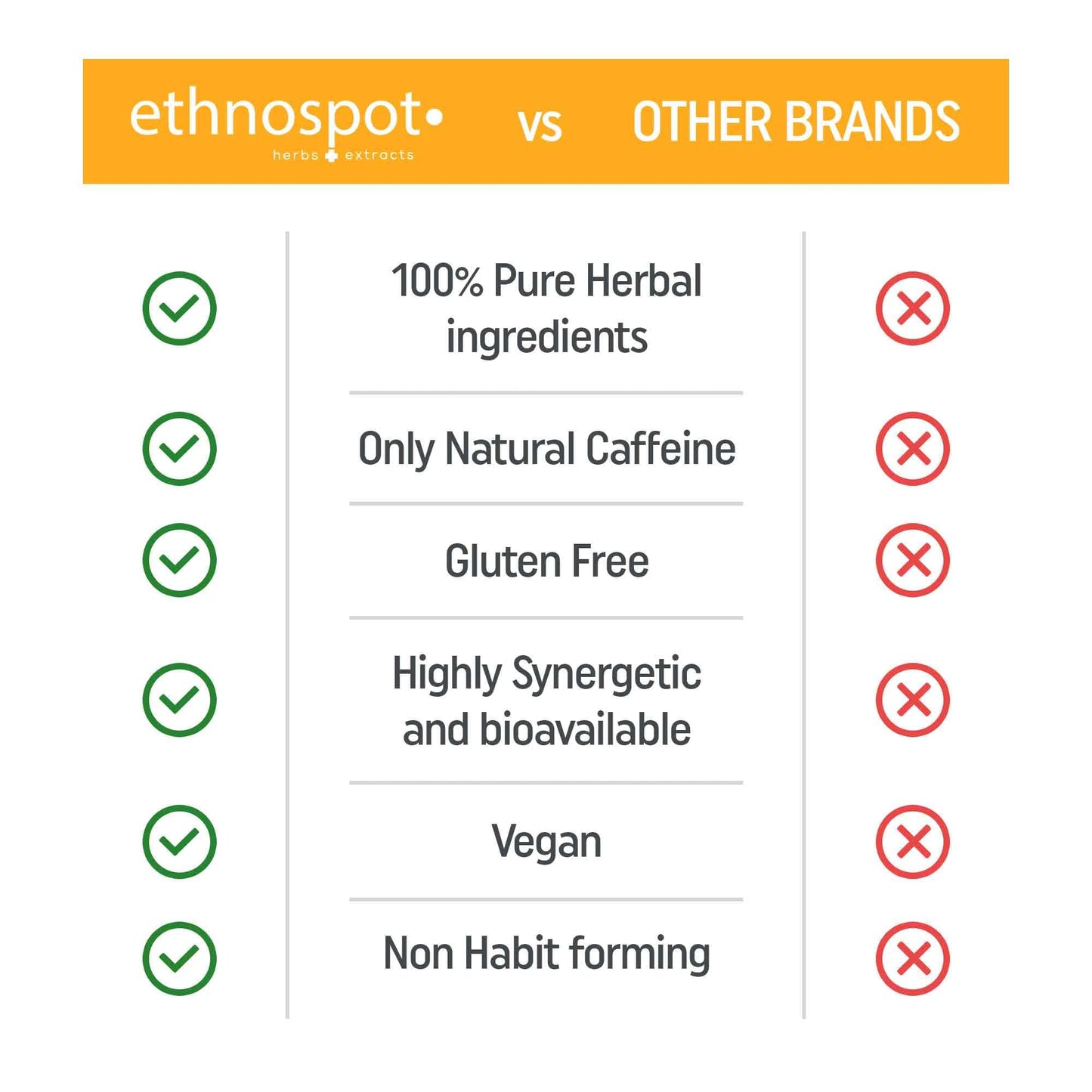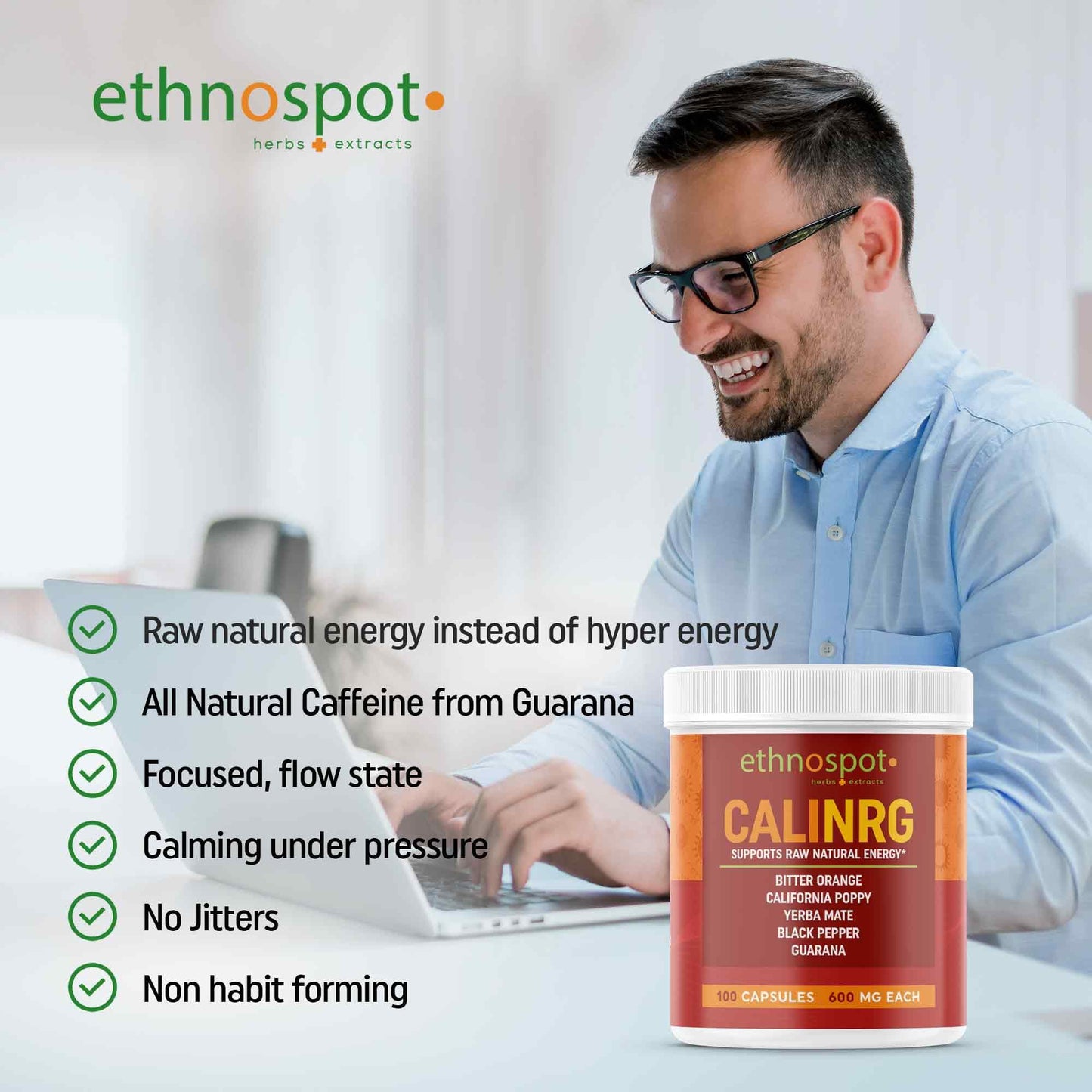 CaliNRG Capsules - Focus & Energy Support Herbal Supplement